Hi, I'm Shimona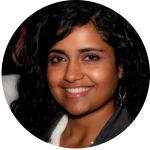 I'm a software engineer who loves good design. I used to specialize in firmware but am broadening my horizons. I have worked for Texas Instruments, Qualcomm, Fitbit and most recently for myself.
Factoids
I was born in Dubai, in the United Arab Emirates, way before anyone had heard of Dubai and its fancy hotels and indoor ski slopes. I had a great multi-cultural childhood and have close friends from all over the world.
I feel connected to many countries and cultures. I have a Hebrew first name and a Portuguese last name. I am Indian by descent but am now American, I went to a British high school run by Italian nuns in an Arab country, and then I went on to an American college. I've learned French and Spanish, and I am currently traveling through South America.
For 10 years, I worked for major cellphone chip manufacturers on their software development and hardware validation. It was interesting stuff, but I found myself increasingly interested in the ways that people interact with technology and how good design plays into this.
I then worked for Fitbit where I started as the lead UI engineer on Surge and ended as a Director of Firmware engineering, focused on UI and apps on all of Fitbit's devices.
I am very excited about what the future holds for technology and design and started this blog to share thoughts about the intersection of humans, design and technology.
I also love photography and write reviews of photography locations on my site SidecarPhoto and sell photos on Imagekind.
Thanks for stopping by!