This quarter I took a class in Information Visualization, a topic I introduced in this post. I was particularly interested in ways to visualize information related with photography. One obvious component of photography that we don't get to see often is how the photographer got the shot i.e. the settings he used.
While many sites, such as Flickr, let you view the EXIF information in the photos, there's no easy way to view them for groups of photos, or get a sense of what settings people use for a certain genre of photography.
For example, say you're at the Eiffel Tower and want a beautiful night shot and you've got your brand new DSLR out. But despite your best efforts at plowing through explanations of shutter speed and aperture, the crazy fractions and notation continue to defy you. That's where my project, PhotoXplore, fits in.
Basically, the idea is that by visualizing the images in a simple interactive chart, you can make connections and begin to understand the relationships without needing to understand the numbers… for now at least. You can explore the chart by highlighting areas (called brushing) and watching the gallery area change. Vice versa, if you see an image you like, you can mouse over it and see where it pops up in the chart area.
The quarter system is way too short for a full project, so I wasn't able to do any user studies, but I did notice some fun things while using it myself. For one, by plotting different photographer's work, you can see what settings they like to use. Apparently, I like to stick to wide apertures and handheld photos – knowing this motivates me to branch out a bit.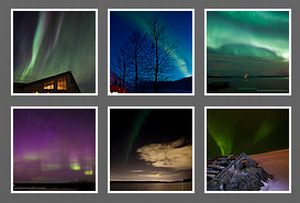 I discovered another cool thing while exploring the Iceland Landscape photo set. There was an interesting clump of photos in the one area of the chart that was somewhat separate from the rest of the photos. On brushing over them, the gallery immediately repopulated with photos of the Northern Lights! It was immediately clear that to shoot the Northern Lights you need a wide aperture and a very long exposure. This little discovery captures the concept behind the PhotoXplore interface – it aims to provide a fun way to explore photos where the images and the settings are presented together making such discoveries easy and intuitive.
Quick disclaimer, all images are off Flickr using their API and credit goes to the original photographer. If you click on an image in the gallery, you can link to the original page on Flickr. Also, it's not complete yet, I'd really like to let users come up with their own searches and save them, but for now its pre-populated with some sets of data. If you'd like a new set of images added, I can generate it and add to the list. Check it out and let me know what you think!