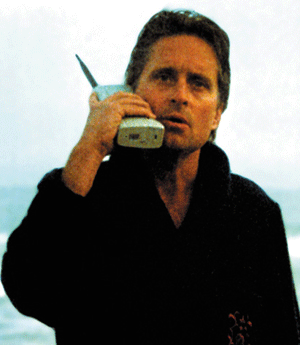 Have you noticed that the phone you use now is larger than the phones we used in the last decade? That is, unless you were Gordon-Gecko-rich back in the 80's, and could afford this fine phone you see him holding here. The truth is that there is a tension between how small we want our mobile devices to be, and how fat our fingers continue to be, despite our very best technological innovations.
Patrick Baudisch
I recently went to see a talk by Patrick Baudisch, an HCI researcher at Hasso Plattner Institute in Berlin. Some of the research he presented focused on reducing the minimum size that our screens need to be for effective use. One of the most challenging aspects of small screens is the tiny buttons. Any buttons on screen need to be large enough to be accurately pressed by a human finger. So how do we reduce that size limitation without exponentially increasing the frustration-factor?
Patrick Baudisch described two creative ideas for breaking down this barrier. I'll cover one – nano touch, in this post, and the other RidgePad, in an upcoming post.
nano touch
First off, it's hard to press a button you can't see, therefore having your finger on top of the screen obscuring the button you are trying to press is a problem. How about placing a touchpad behind the device allowing you to maneuver a pointer on screen without obscuring it? The technology is called nano touch and allows users to complete a variety of actions on very small screens (2.4″ to 0.3″). Here is one video from New Scientist, more are available on the nano touch website.
Why, For The Love Of All That Is Sacred?
You might be asking, why on earth wouldn't I just play my FPS on my 40 inch plasma at home? Do I really need to play an FPS while driving home from my work computer to my home gaming setup? And I would respond by tagging that question with #firstworldproblems. Patrick points out that a large part of the developing world do not have access to laptops and computers and more simply, large screens. Mobile phones are their point of access to technology.
"There is a single true computation platform for the masses today. It is not the PC and not One Laptop Per Child. It is the mobile phone—by orders of magnitude. This is the exciting and promising reality we need to design for." – Patrick Baudisch
I saw this myself on a recent trip to India. I was marveling at how young people in India seemed very obsessed with their phones. And not just like teenagers we see here, lost to the world and one with their phone, but instead, groups of young people gathered around one phone. Note, these are not smartphones, they can play music, and maybe download ringtones, but that's about it.
So why the excitement, I thought? What could possibly be so engrossing in a cellphone? And then it hit me. For most of these people, this is the first computer they have personally owned. I remember the first computer I owned, I don't think it could even play much music, just PC beeps with exciting siren effects if you coded the BASIC right. But damn, was it exciting! And that's why small screens are important, because they bring the magic of computing to a whole segment of society that was mostly skipped over in the PC revolution.
Thanks for reading! Back soon with RidgePad…